Museum Studies at the University of Iowa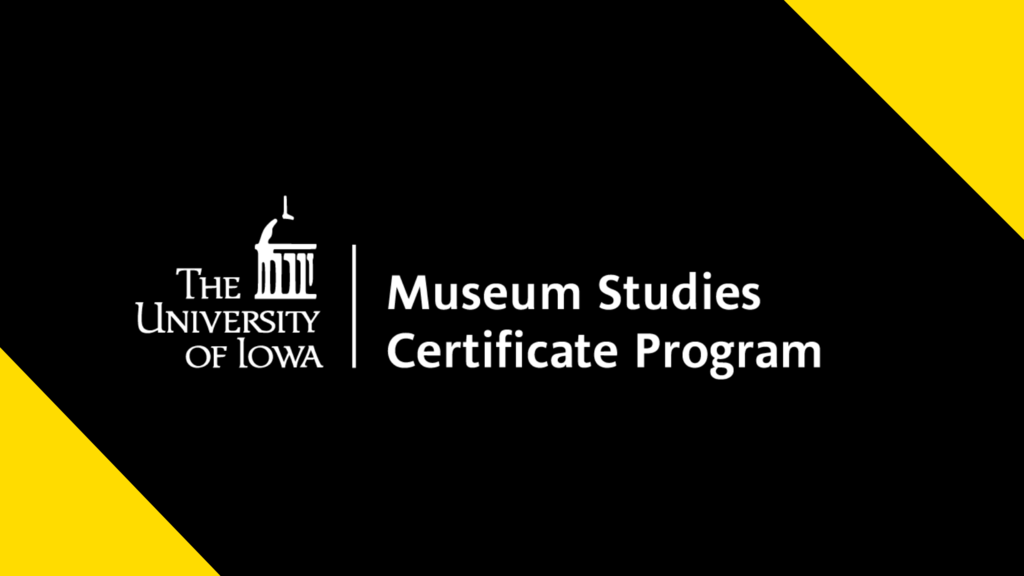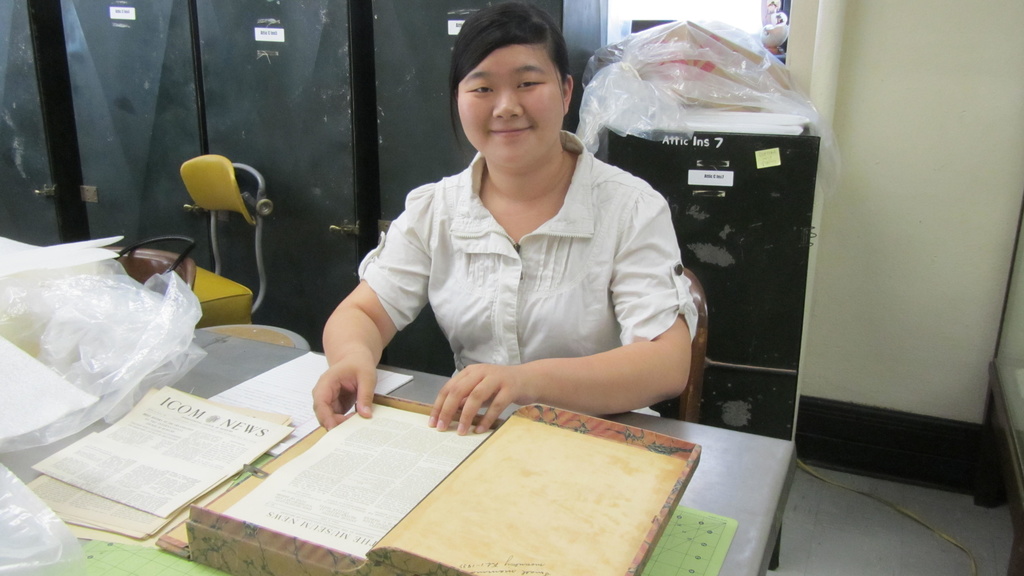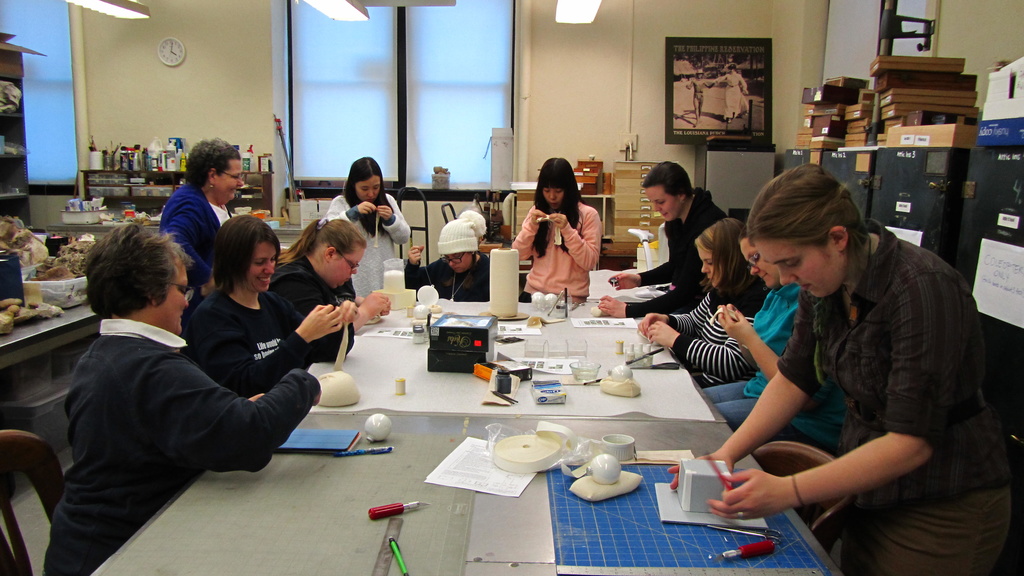 The University of Iowa has offered professional training for work in museums since 1910.
The Museum Studies Certificate program combines history, theory, and experiential learning to create a forward-looking curriculum preparing professionals for graduate school or work in a wide range of museums and cultural institutions. 
Courses are offered online and face-to-face each semester to meet your education and professional development needs.
About the Museum Studies Program
A certificate prepares students for entry-level positions in museums or for advanced studies in graduate school.  Employment in zoos and botanical gardens; historical houses and science centers; local, state and federal parks and monuments; and libraries and archives are all possible. 
In large institutions a graduate with a BA/BS degree combined with a certificate may find employment supporting the head of department (e.g., assistant collection manager, education coordinator, exhibit artist); in smaller institutions, the same credentials may enable entry with a higher title (e.g., curator, exhibit manager, director).
Whether you are taking online or face-to-face courses, you can expect to engage in a variety of activities.
Through lectures, discussions, visits to museums, hands-on learning, professional guest speakers, and museum based projects students will learn about:
- The history and origins of museums
- Collections management and care best practices
- Audience and community engagement
- Nonprofit fundraising, grant writing and management
- Strategic planning and organizational structure
- Ethics and professionalism in the field
- Communication and collaboration best practices
The Certificate Program is open to any student, either non-traditional or undergraduate, with a minimum 2.0 GPA who is not enrolled in the Graduate College at the University of Iowa.
Graduate students are welcome to take museum studies courses, but currently the Certificate is only offered at the undergraduate level.  Graduate students have the option to enroll in the Certificate program after completing the graduate degree.
Thank you for your interest in the online certificate in Museum Studies with the University of Iowa! Many of our courses are offered online, and you can earn the Certificate completely online. It is also possible to take a mix of online and face-to-face courses to meet the certificate requirements. More detailed information is available below. 
Online courses are semester long, with 16-week courses in the Fall and Spring, and 4-, 6-, 8- and 12-week options in the summer. You do not have to be admitted into a bachelor's program or have earned a bachelor's degree to enroll in the undergraduate, online Museum Studies certificate program.
Online Certificate in Museum Studies
Through preservation, education, and research, museums provide space for communities to share ideas about their past, present, and future. The University of Iowa maintains a long tradition of training and preparing professionals for the interdisciplinary work that takes place in museums, offering courses continuously since 1910.

Graduates of the Museum Studies program have become directors, curators, educators, and exhibit specialists in museums throughout the country. The Museum Studies program offers courses that are of value not only to students intending to pursue museum careers or continue their education, but also to those with a general interest in the arts, sciences, or humanities, as well as to those students who simply wish to know more about the workings of museums.
Curriculum
The University of Iowa offers the Museum Studies Certificate, an 18-semester hour certificate program administered through the College of Liberal Arts and Sciences (CLAS). Undergraduate and non-traditional students can complete a Certificate alongside their major area of study or as a stand-alone Certificate.
If Interested In Applying:
Complete the Nondegree Students application at the Office of Admissions website. You will need to set up a user account and password to complete the application.
When prompted for a college select College of Liberal Arts and Sciences and indicate that you're pursuing online undergraduate coursework.
In the Purpose of Attending box, enter Online Certificate in Museum Studies.
A total of 18 s.h. of work is required for the Museum Studies Certificate, including 13 s.h. of foundation courses, 3 s.h. elective course(s) and a 2 s.h. museum professionalism course. The program is flexible to meet your needs, however it is possible to complete the Certificate requirement within one academic year.*
Below is an outline of the courses offered and certificate requirements. You can read about specific museum studies courses in the general course catalog. 
CERTIFICATE REQUIREMENTS: * indicates online courses
Foundations Courses:
     MUSM:3001 Introduction to Museum Studies (3 sh) * 
     MUSM:3091 Topics in Museum Studies (1 SH)
Professionalism Course:
     CCP:1201 Academic Internship * (2 SH)
Choose FOUR courses from three of the following four Focus Areas (12 sh)
Collection Care and Management
     MUSM:3003 Natural History Research Collections (3 sh)
     MUSM:3200 Collection Care and Management (3 sh)*
     MUSM:4200 Museum Object Preservation (3 sh)
Exhibition Development and Public Education
     MUSM:3004 Exhibition Planning (3 sh)*
     MUSM:3105 Engaging Museum Audiences (3 sh) *
     MUSM:3125 Museums in a Digital World (3 sh) *
     MUSM:4210 Museum Without Walls (3 sh)
History, Theory, and Culture
     MUSM:2850 Museums and Social Justice (3 sh)
     MUSM:3120 Museum Origins (3 sh) *
     MUSM:3237 Politics of the Archaeological Past (3 sh)
     MUSM:4081 The Art Museum: Theory and Practice (3 sh)
     MUSM:4130 Museum Literacy and Historical Memory (3 sh)
     MUSM:4310 Slavery Museums, Memorials and Statues (3 sh)
Museum Administration and Management
     MUSM:3100 Historic House Management and Preservation (3 sh) *
     MUSM:3131 Museum Evaluation and Visitor Studies
     MUSM:3500 Nonprofit Organizational Effectiveness I (3 sh) *
     MUSM:4045 Art, Law and Ethics
     MUSM:4150 Introduction to Grant Writing (3 sh) *
Museum Studies students completing an internship should register for CCP:1201 Academic Internship through the Pomerantz Career Center. This course – CCP:1201 – will substitute for MUSM:4080 Internship and MUSM:4084 Museum Professionalism. More information on the course can be accessed via the course information page.
This change of course for the required professionalism credits requires that students register for 75 hours of internship experience for 1 s.h. of academic credit. As a result, Museum studies students who have not yet begun an internship will need to complete 2 s.h. of academic credit of CCP:1201: Academic Internship, which equates to 150 hours of work. 
For students who have already begun to fulfill the professionalism requirement of their certificate prior to the Fall 2022 semester, Museum Studies staff, advisors, and the program coordinator will work with you to construct a plan to fulfill the remaining credits for your certificate. Rest assured that we are here to support you during this transitional phase.
To best support students navigating this new process, please see below for a series of directions regarding the process of locating and registering for internships using this new system.
1. Identify an Internship Opportunity
As you begin the exciting process of searching for an internship opportunity to fulfill the Professionalism requirement for the Museum Studies Certificate, please note that the Museum Studies Program has provided a list of "pre-approved" internship opportunities with institutional partners on campus and in the greater Iowa City area. These opportunities can be found under the "Internship Opportunities" tab on the Museum Studies Program website.
The term "pre-approved" in this context refers to the fact that these internships have been reviewed by the Museum Studies Advisory Committee as meeting the necessary training requirements for the Certificate. All students are still required to meet with their site supervisor for the internship, meet all internship requirements, and complete all required course components for CCP:1201 before they can receive credit for completing their internships. You can see an overview of assignments at the bottom of the course information page.
For students interested in undertaking their internships in an off-campus setting, please identify the internship opportunity using some of the following general criteria. Internships for Certificate credit can be at museums, historical societies, or galleries and must involve work in at least one aspect of museum operations: administration, exhibition design/preparation, collections care, education/programming, communications, visitor experiences. If you need support on your internship search, Pomerantz Career Center coaches and resources are available to help you search, apply, interview, or negotiate.
Please note that all internships must include at least 75 hours of work experience within a single academic semester to qualify for 1 s.h. of academic credit, and a total of 150 hours of internship experience for 2 s.h. of academic credit is required to meet the Professionalism requirement for the Certificate.
2. Make Contact with the Site Supervisor
Once you have identified an internship opportunity – either through the list of pre-approved internships or on your own – please reach out directly to the site supervisor for the internship opportunity and set a day and time to meet, which could be when you agree to an interview offer. At this meeting, please discuss the possibility of completing your Certificate requirements with the site supervisor's institution or organization. It is your responsibility as a Certificate student to clearly communicate the program's requirements for the internship and to ensure that the site supervisor is willing to host you as an intern at their institution or organization. The key criteria include: the scope of work, the hours you will cover in one semester of work, supervisor expectations, and the associated academic credits that you will earn for the internship. At a minimum, supervisor expectations include a 1:1 meeting once a week as well as the supervisor's completion of an end of semester evaluation.
3. Meet with an Academic Advisor to Confirm Internship Requirements
All students should next meet with an Academic Advisor who provides support for Museum Studies Certificate students to verify that their internship opportunities meet Certificate requirements. For those selecting an internship from the list of pre-approved internship opportunities, this step will simply serve to confirm that they have undertaken all necessary steps before moving onto the next phase of internship registration.
For students who are undertaking an internship that is not pre-approved, they must provide their Academic Advisor with the following information:
-Description of internship opportunity
-Scope of work associated with the internship opportunity
-Hours of work that will be completed during a single semester
-Written confirmation of support from the site supervisor
Once the student has provided their Academic Advisor with this information, it will be submitted to the Museum Studies Advisory Committee, who will review the internship's suitability for the Certificate Program. The Museum Studies Advisory Committee will report back to the Academic Advisor with their decision, which will then be communicated to the student. 
Once this is step is finalized, students will undertake the next steps of their internship via the Pomerantz Career Center's Handshake system, which is outlined below. .
4. Request Internship Course Registration Approval via Handshake 
To register for the course, students should secure their internship by following steps 1, 2, and 3 outlined above and then follow these steps to register to ensure that you are able to enroll in CCP:1201 with the Pomerantz Career Center.
Here are the required steps for your convenience:
A. Log into your Handshake account. 
**You must have confirmed an experience prior to requesting to register for an internship course. 
B. Click on "Career Center" at the top, then "Experiences" in the middle of the page, and "Request an Experience" - complete the form by picking the "Experience Type" that aligns with the course you want to take above and make sure to include the supervisor's email address. F1 & J1 students must also request CPT approval from ISSS. You will take a screenshot of your Handshake Experience entry and submit it in iHawk.
C. Within one week of adding your internship information on Handshake, you will receive an email and a note in Handshake with instructions for adding the internship course on MyUI. If you do not add the internship course on MyUI, it will not appear on your transcript and you will not be officially registered for the course.  Note: International students who are on a F-1 or J-1 visa and are requesting 0-credit Hour Internship & Transcript Notation  or CCP:1201 Academic Internship course must register for the course on MyUI per Federal law in order to meet the registration requirements.
Questions about the Handshake process or questions about the course (CCP:1201 Academic Internship) can be directed to: Jennifer-noyce@uiowa.edu.
5. Final Registration via MyUI
After you receive approval from a staff member of the Pomerantz Career Center, register for CCP:1201 via MyUI and enjoy your internship experience!
For a list of pre-approved Museum Studies Certificate internship opportunities please contact Museum Studies Coordinator, Dr. Debra Trusty.
Complete the Nondegree Students application at the Office of Admissions website. You will need to set up a user account and password to complete the application.
When prompted for a college select College of Liberal Arts and Sciences and indicate that you're pursuing online undergraduate coursework.
In the Purpose of Attending box, enter Online Certificate in Museum Studies.
Useful Links and Resources